Login
Log in if you have an account
Dont have an account? Register
Healing on two wheels
20 Mar 2021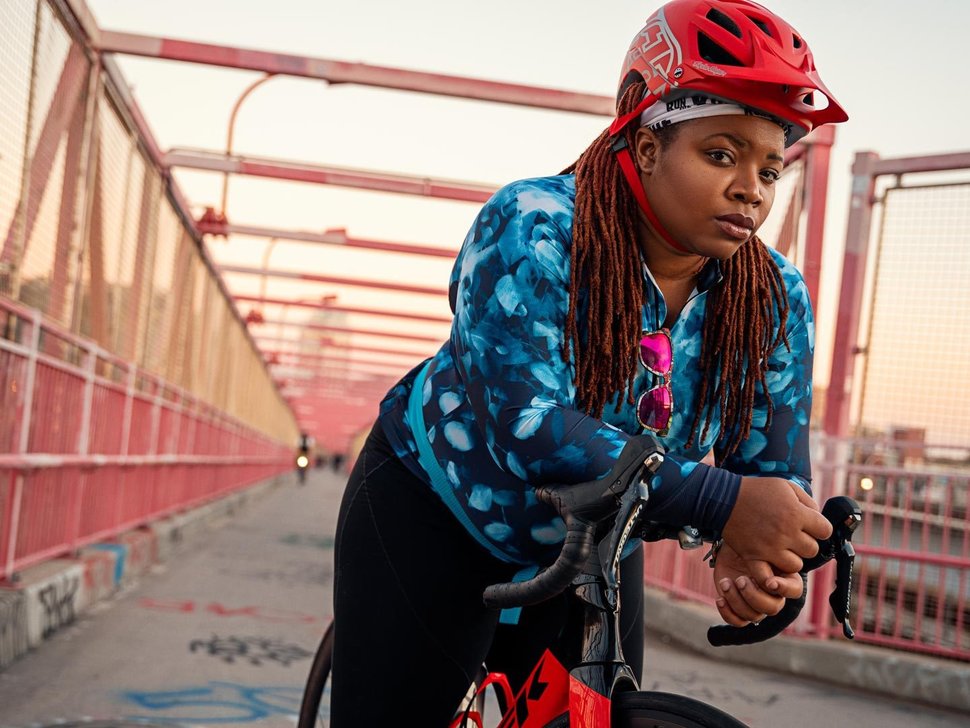 Pressing forward, grieving, and adapting to a new normal through cycling.
I completed my second in-person duathlon a couple months ago—a first for me during this global pandemic. Personally, this is a huge accomplishment since I haven't participated in any endurance events since the beginning of COVID-19. And strange as it may sound, my participation was completely unexpected—I learned that the Prospect Park Duathlon wasn't a virtual effort just two days before the event. From my lack of time on the pavement, I knew I wasn't physically prepared. But I opted to attempt the distance anyway.
I also hadn't mentally recovered from holding myself hostage in my Brooklyn home for the past several months. Within a two-month period, I had lost 13 close friends to COVID-19 and I personally know fellow athletes and loved ones still battling the aftereffects of this infectious disease. From the COVID-19 pandemic to the hostile political climate, parts of the world burning from fires, and the racial tensions lurking in the air, I found myself shifting from someone who prides herself on being an outdoor adventurer to immersing myself in self-crafted home workouts at 2 a.m. on an indoor trainer. As I watched the news in a panic over the devastating loss from a global perspective, I rekindled a loving, and at times therapeutic, relationship with cycling.
Prior to the abrupt disruption of our normalcy, I'd created my own set of New Year's resolutions with some ambitious goals in mind: I aspired to revisit my scary goal of becoming a triathlete—specifically an Ironman—by 2022. Many in my closest circle thought I was nuts due to my lack of swimming abilities. But unlike the beginning of my fitness adventures in 2013, not too many people doubt my vision any longer. Although my plans are on hold due to the many endurance event cancelations, I am determined to see my triathlon dreams come to fruition. After all, I am no stranger to pressing past hurdles in my fitness and everyday life.
For a bit over five years, my name has been synonymous with marathons and ultrarunning. Ultrarunning is a dynamic yet grueling form of endurance running that covers anything over 26.2 miles on pavement and trails. And despite a growing rogue community participating in the sport, I am also known for my outspoken narrative about diversifying the outdoors—particularly as a Black, plus-sized, slower paced, and queer athlete with several invisible disabilities. In fact, many learned of my story through an article I wrote for The Root back in 2017 about being heckled at the New York City Marathon.
Despite many people's discomfort with descriptors, I am proud of my physical movement and mental grit even while performing under less-than-ideal conditions. And what I've learned from not limiting myself to one sport is that regardless of which activity you choose, your mind and heart are essential fueling sources outside of your daily conditioning.
I'll be the first to say that I'm far from a speed demon in any of the disciplines that I love—but that's not what keeps me in this space. As a body politics activist, I love celebrating my body in more ways than hoarding finisher medals, seeking to fit a stereotypical mold of what my body should look like or becoming an elite athlete. Movement stimulates an eclectic range of feelings beyond my feet—I love pushing through rough patches and challenging myself to strive for the personal best I can accomplish for that day.
But quite frankly, this pandemic made me feel as if I was drowning on dry land. Initially I held onto optimism like a toddler holding onto a mother's hip, but this feeling fleeted quickly. When pushed into a dark pit of uncertainty, we're faced with the challenge of wondering if we should throw in the towel or press forward. Let's be clear: nothing about this moment in history is something we can find in a manual. When I lacked the mental capacity to lace up and run, I locked into my bike at home during odd and unpredictable hours of the day.
For some people, indoor cycling may spark similar sentiments to what some runners feel about being on a treadmill: a mixture of boredom from the lack of changing scenery and a feeling of limitation without an advanced trainer that has apps like Zwift. But I found security in being on my bike as I pressed through miles in my home at strange hours. I didn't harbor a fear of endangering myself or my family when pedaling indoors. My mind wouldn't crumble down a rabbit hole wondering if I'd possibly infected someone.
On top of the pandemic, there was also an uptick in racially motivated hate crimes around the country that in turn sparked countless protests globally. As a Black woman that openly advocates for personal security and safety while running and cycling, I grew exhausted exploring the dark thoughts of possibly becoming a headline, or having my peers march in my name like George Floyd, Breonna Taylor, or Ahmaud Arbery.
All these layers blanket themselves on me each time I walk out the door. But when I ride my bike, I feel an immense level of escape. For months, I used this as my accountability buddy to remain active–mentally, emotionally, and physically.
Since last June, I've been adjusting a bit better with our new and evolving version of normal. A huge spark stemmed from riding on my new bike, which forced me to learn how to get uncomfortable once again. It started when my local bike shop installed clip-in pedals on my 2020 Trek Madone, though I must admit that this wasn't an organic act of bravery on my part.
In May, I raised funds during my birthday week for three Black organizations—the Minnesota Freedom Fund, the Audre Lorde Project, and Black Women's Blueprint. I kickstarted my event with a 100k indoor cycling adventure followed up with a 13.1 mile run/walk, and two days later, completed a 100-mile indoor effort. Many suggested that I consider clipping in if I wanted to go longer without exhausting so much energy quickly, especially if I wanted to enter the triathlon world. Between admiring the beauty of my new bike—one that I named Cayenne Pepper—and wanting to shake off the fear of clipping in and out, I pushed myself to go back into the outdoors.
I know this may sound cliché, but my history with using sports as a healer is my personal truth. I am not inclined to say that running or cycling is my therapy, but it serves as a therapeutic tool throughout various aspects of my life. When I was battling moderate depression (mostly stemming from several miscarriages) and speaking to a therapist wasn't enough, I'd run or ride my bike as far as I could to see every scenic route that New York City had to offer. At any given time, you might catch me soaking in the sunrise on the Brooklyn Bridge or zipping down the Hudson River Greenway to join a community of other commuting cyclists. Although I am much more of a solo cyclist, it gives me great joy to exchange a smile with another person or to remove a layer of loneliness through an eye exchange.
If I'm not using my bike as a form of therapy, I enjoy using my two-wheeled companion as a means to do an unofficial solo or small group food and photography tour throughout different areas of New York City. Two of my favorite adventurers are my son and husband for these types of culinary missions. Few food-inspired cycling adventures are too grand for me, and I definitely don't view any excuse to leap on a bike as too short of a trip—any amount of free time allows me to expand my palate within or outside of my comfort range.
You can find me riding my bike for Dun-Well Donuts in Bushwick (because dessert first) and I've battled the atrocious Williamsburg midday traffic to sink my teeth into a stack of eight chive and pork dumplings from Vanessa's Dumpling House. I even creating a system to safely transport food in my backpack and mapped out ways to climb and descend on up to five bridges: the Brooklyn Bridge, Williamsburg Bridge, Pulaski Bridge, Manhattan Bridge Bike Path, and my personal headache for long runs or cycling days—the Queensborough Bridge.
While recovering post-ride, I tend to share my random captures and adventures with my following on my blog Running Fat Chef or on social media platforms like Instagram or Facebook. In many ways, I've used my phone as a muse to provide me with an interactive cheer section. And in others, I'm able to help people see the grit and beauty of the city I call home through images I've taken outside of typical tourist locations.
With not many physical races in sight, I am reminded to take in the good of this moment and to slow down and smell the figurative roses as we persevere daily. I've been absorbing as many sunrises as I can in honor of those that I've lost. And when presented with random opportunities to do in-person events when the circumstances are safe—even when I'm not completely mentally prepared—I seize the opportunity to be amongst my fitness tribe.
When things fall into place and life resumes to a similar motion like the pre-pandemic days, I will hold onto the lessons provided to me during this time. I know some may never understand why someone would take pride in moving without a goal in sight. They might even press further and wonder why I don't dream bigger than celebrating my mobility. It's as simple as this: we're different people with different goals—and that's perfectly okay. My goals evolve, change, and adapt as variables change. In my heart, I know that I will be a triathlete in the future. It is not an if for me; it is a matter of when. But until that happens, I deeply appreciate the revived joy that two wheels and an endless imagination provides a woman of adventure like me.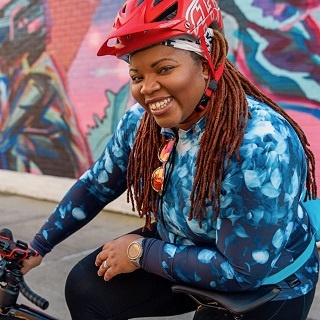 About the Author: Latoya Shauntay Snell
Named by The Root 100 as one of the most influential African Americans ages 25 to 45, Latoya Shauntay Snell is a sponsored endurance athlete, body politics activist, motivational speaker, and content creator. The food and fitness blogger behind Running Fat Chef has been featured on multiple platforms, including 3rd Hour Today, Good Morning America, and Huffington Post, and was featured on the November 2020 cover of Runner's World. Snell is changing the narrative around ideal body types, mental health, and fitness stereotypes in the fitness and wellness space. As a contributing writer to several platforms and an ambassador for the Runners Alliance initiative, she uses her voice to talk about intersectionality in sports in order to change the language for future generations in fitness and beyond.